Symbiotic Stories, Solo exhibition, October 15 2022 - January 22 2023, Galleri F15, Moss Norway
Symbiotic Stories
is part of Jakob Oredssons artistic research project Scenography as Symbiosis at Norwegian Theatre Academy in Fredrikstad. The project's research questions relate to theories of expanded scenography where this notion is challenged from within.
Jakob Oredssons artistic research seeks to challenge hegemonic parameters within scenographic practice, in relation to dichotomies such as, foreground-background, onstage-offstage, scene-stage, stage-auditorium, theatre-architecture, inside-outside, etc., through emphasizing the ambiguous state of being two, or many, things at the same time.
The exhibition at Galleri F 15 comes into being through a long term process where Oredsson spends extensive time periods at Alby researching ways of seeking layers of stories in various temporal and spatial scales, human and non-human, which constitute the context of Galleri F 15, the architecture, the garden, as well as the surrounding environment.
Symbiotic Stories seeks to exist in solidarity and symbiosis with the gallery ecology, with the intimate and the distant, simultaneously bringing the landscape into the gallery as well as the gallery into the landscape, existing ambiguously at the same time inside and outside.
Jakob Oredsson is educated as artist, architect and scenographer, and currently research fellow at Norwegian Theatre Academy, Østfold University College, with support from Norwegian Directorate for Higher Education and Skills (HKDIR).
Symbiotic Surfaces (Black Box teater Beings)
is a public work of scenography developed by Jakob Oredsson for the facade of Black Box teater. The work is a celebration of Black Box teater, the beings it hosts, has hosted and will host in the future, the multitudes of stories constituting the theater. Oredsson's work enters into a dialogue with the current situation Black Box teater is in, now that the building in Marstrandgata 8 is to be demolished and the theater must seek a new future home. Symbiotic Surfaces (Black Box teater Beings) brings the theater into the surrounding public environment, inverting it, inside surfaces of the theater to its outside surface.
The work consists of a constant stream of images which carry traces of the diverse stories of the place. Images of marks that everyone who has worked in the building has a relationship with, images that are clear signs of theater production, images of neglected events, of valued events, intimate relationships, collective achievements, images of architectural details and historical events from before Black Box teater moved into the building. This flow of images brings a feeling of the theater out to the street and invites passers-by to reflect upon the inside of this creative environment.
Co-production
Supported by
Norwegian Directorate for Higher Education and Skills
Norwegian Theatre Academy, Østfold University College
Photographer: Hampus Berndtson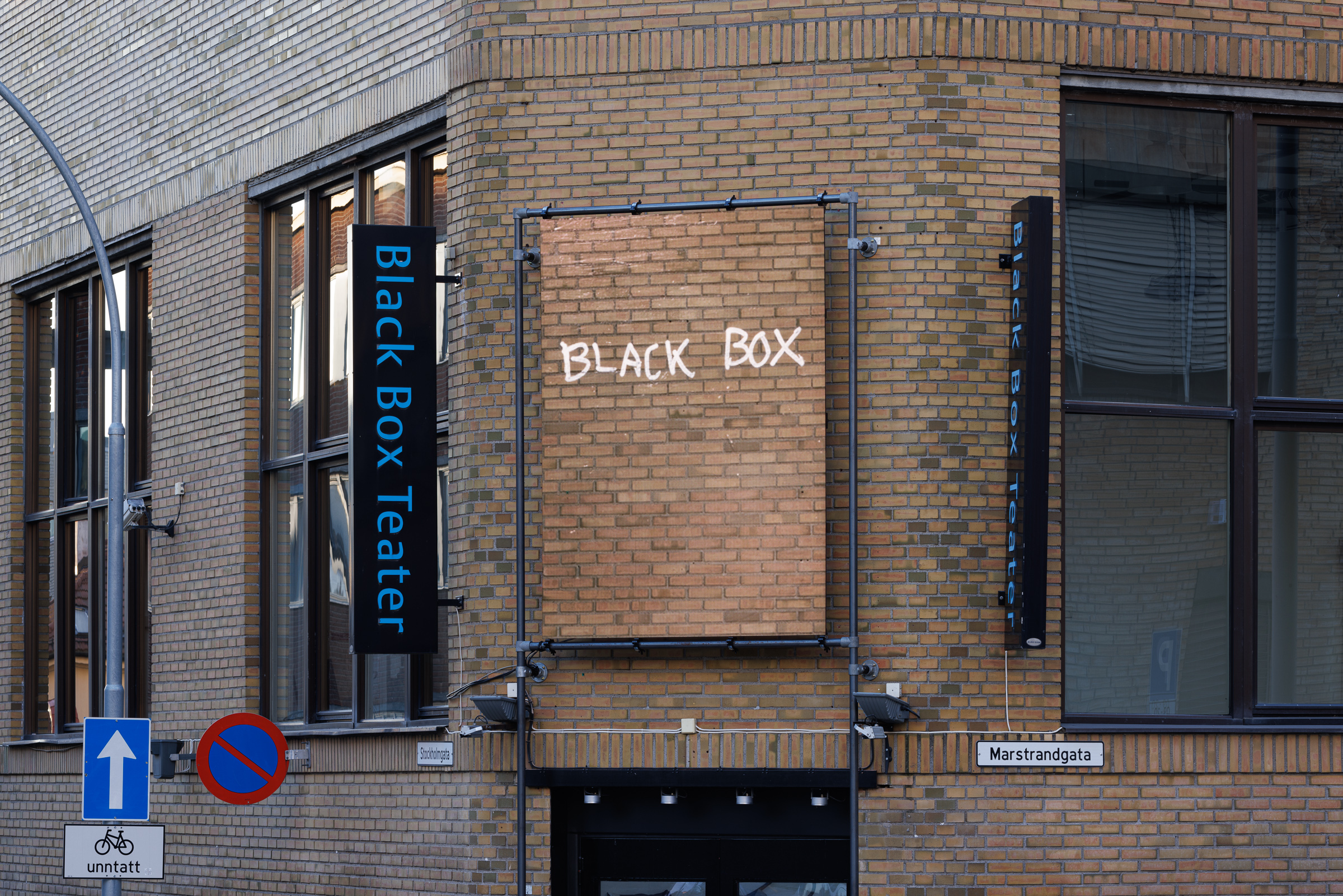 Between Being (for Galleri Format), 2021
Between Being
is a work created for Galleri Format and the anniversary exhibition
Are We Human
. It's a work which seeks to include the environment in its very form. Engaging in an explicit relationship with its environment, pursuing a situation in which the border between work and context is breathing. An image of light appears in the work which is mimicking the distinct geometrical structure in the ceiling of the gallery.
Group exhibition featuring works by Annike Flo, Kiyoshi Yamamoto, Leif Stangebye-Nielsen, Helene Duckert, Tanya Busse, Jakob Oredsson, Kåre Grundvåg, Jorge Manilla and Sigrid Espelien. Curated by Ida Bringedal and Ida Olesdatter Barland. Supported by Norske Kunsthåndverkere and Kunsthåndverkernes fond.
Photographer: Thomas Tveter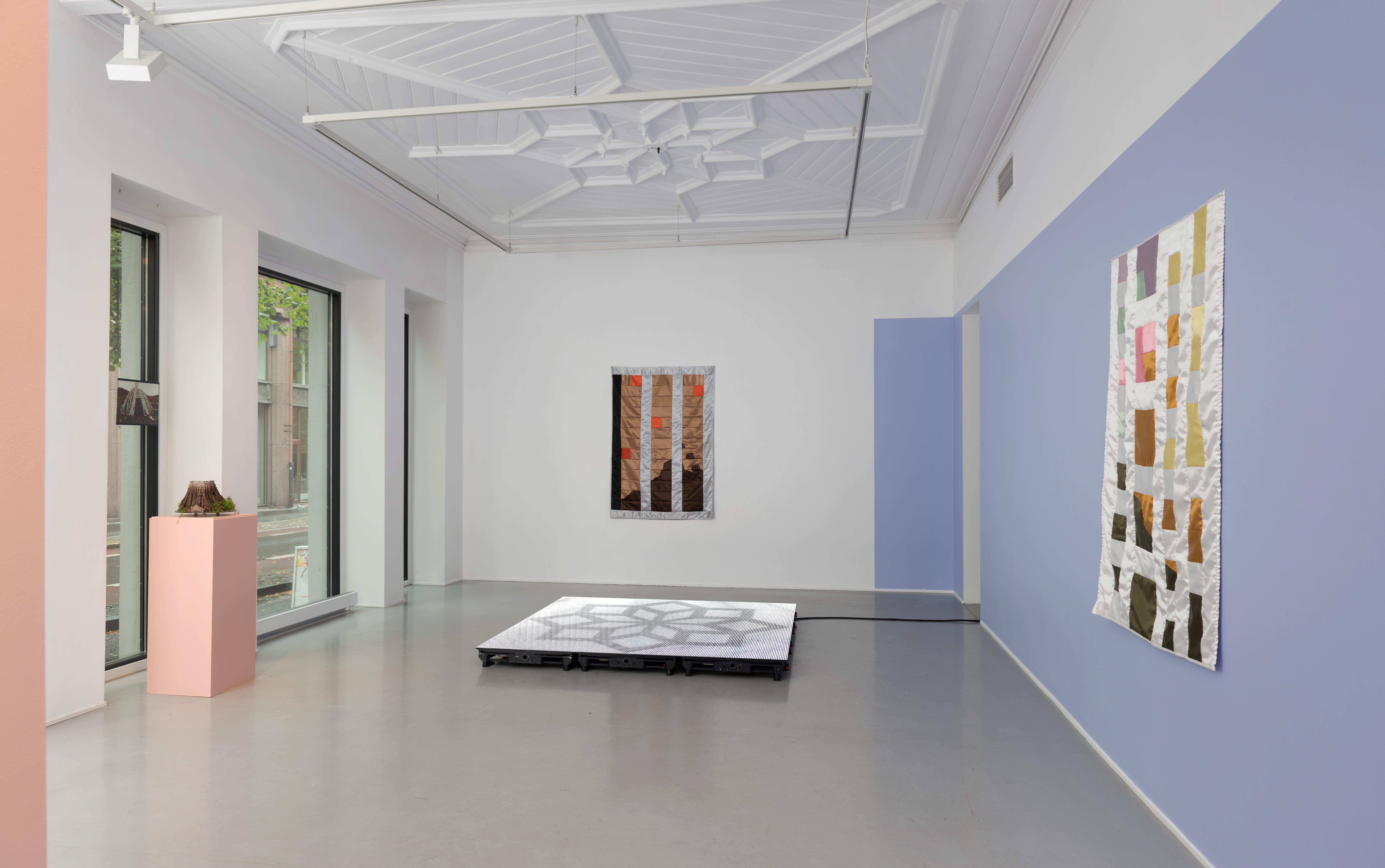 Symbiotic Scenes, 2021
Symbiotic Scenes
is a public scenographic work appearing on the vacant plot in front of Scene 1 and TOU Scene in Stavanger. It's the first work of three, constituting the artistic research project Scenography as Symbiosis developed by Jakob Oredsson, artist, architect, scenographer and current research fellow at Norwegian Theatre Academy (HiØ). Scenography is imagined as symbiosis with reference to the philosophical school Object-Oriented Ontology as influenced by Lynn Margulis theories on symbiosis.
Symbiotic Scenes
seeks solidarity with the endless variety of spatiotemporal scales coexisting within and forming the context. As scenography, it endeavors to exist through relation with and description of the environment, tuning with it, queering binaries such as active-passive, time-space, encouraging acceptance of difference and appreciation of strangeness.
Supported by:
KORO, Norsk Kulturråd, Stavanger Kommune
Photographer:
Hampus Berndtson